---
Rockystock is Midnight Insanity's annual forage into Central Park in Huntington Beach, next to the Huntington Beach Public Library.

17777 Gothard St., in Huntington Beach

This year, Rockystock is on Sunday, June 24th, 2012

To find us, you will want to drive around to Gothard Street. Between Talbert and Slater, there is only one turn-in off of Gothard, that has it's own private parking lot (see the red bullet on the map). Park here, enter the park, and follow the path to your right ... soon you should be some bathrooms, as well as a soda vending machine. Follow the signs, as necessary. You should find us within a couple hundred feet.

Here's map to get to the park: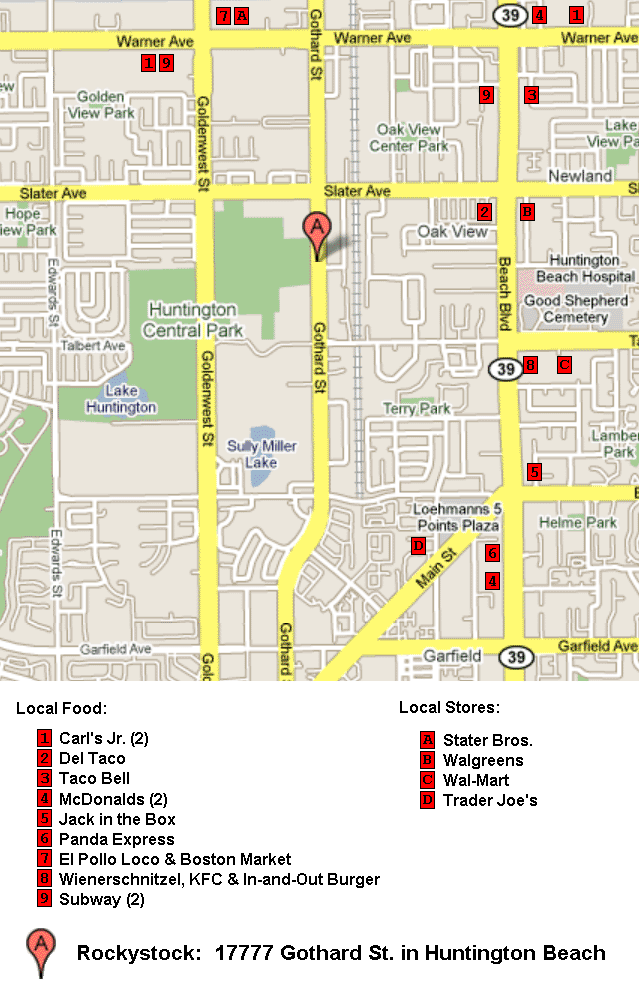 If you're coming off the Freeway (say, from the Art Theatre), you can take the 405 South and exit on Goldenwest/Bolsa (not "Bolsa Chica"). Turn left off the freeway (onto a small street), right onto Goldenwest, and pass Bolsa (otherwise you're going the wrong way). Slater should come up in less than 10 lights ... turn left. Gothard is the next light, turn right. Turn in when you see a parking lot on your right.

Folks from the south can take the 405 North, exit on Brookhurst (South) and turn right onto Talbert. When you reach Gothard, turn right and look for the parking lot on your left (the ones with the trees, not the oil tanks). Gothard should also be less than 6 lights from the freeway offramp.

If you wish to print up your own maps, we're roughly at 17777 Gothard St., in Huntington Beach. Here's a link to Google Maps

Bring some food and some tunes, and definately bring some friends!! Those of the athletic persuasion are welcome bring a softball mitt, a football or a frisbee, we're sure to have a game or two. Super Soakers are also recommended for those who like to "creatively" beat the heat!! Ladies, pack a white t-shirt if you want to be even more "creative".

Last, but not least, remember to bring some sunblock ... we'd hate to see all our good friends peeling the next weekend!!

Rockystock is on Sunday, June 24th, 2012, starting around noon or so, and running until we all get bored and leave (or they kick us out :-)) ... see you there!!

---