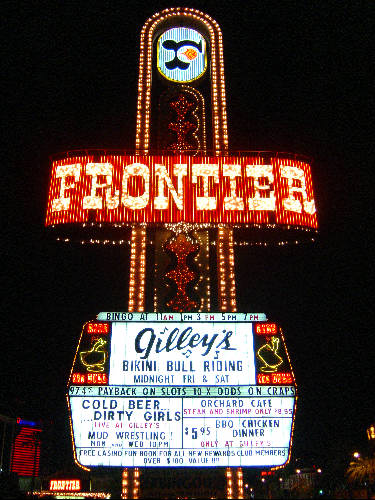 The New Frontier (On the Strip)
3120 South Las Vegas Blvd.
Las Vegas, NV 89109
1-800-634-6966
Website: http://www.frontierlv.com/
---
Convention Room Rates

Standard rooms
$49 midweek, $99 Friday and Saturday

Atrium suites
$69 midweek, $119 Friday and Saturday
Hotel Reservations can be reached at 1-800-634-6966. Make sure you mention "Rocky Horror" or "Midnight Insanity" when you call. This rate is only available through May 25th. If you have any trouble making reservations please let us know. Note that Atrium suites have a seperate bedroom from the living room with door, so you can more comfortably fit a few more people in there. They also come highly recommended by the Cirque Du Rockeil convention staff.

Like most Las Vegas hotels, YOU MUST BE AT LEAST 21 to reserve a room at the Frontier. However, unlike most Las Vegas hotels, the Frontier WILL NOT charge the first night to your credit card when you make your reservation. In fact, you can pay for your room with a check or cash when you get there, even if you've already given them a credit card. Reservations can be cancelled 48-hours prior to the reservation date, in the off chance that you find yourself unable to attend after all. If so, be sure to check out the last package on this page.
Amenities at the Frontier include a 24-hour "Frontier Deli", plus a Panda Express. Right next door is a huge mall with a food court. Just on the other side of the mall (about half-a-block away) is Treasure Island, where you can watch the new "Sirens of Treasure Island" live Pirate performance (free).
The swimming pool is open 24/7, with a lifeguard on duty from 9am to 6pm daily.
Just to the north of the Frontier is the Stardust Hotel, home of long-time Las Vegas staple, Wayne Newton (aka "Mr. Las Vegas") ... and includes all the Granny Panties that you can handle ... ya know, if that's your thing.
Directly across the street is the Wynn collection of Fine Art ... where they are also building Steve Wynn's new hotel "La Reve", which is scheduled to open sometime in 2004.
Remember, you get $10 off for two or four-day registration packages if you are registered at the Frontier. That amounts to 200 pulls off the Nickel Slots ... which is about two hours of solid entertainment, complete with free drinks.