The following sites are locations we may be visiting during the convention as a group, and some interesting information, rumors, and gossip about their histories:


Hollywood Roosevelt Hotel

In 1927 this grand Spanish Revival hotel was erected with the express purpose of luring the Hollywood elite. Legends grew apace. A metal plaque in the hotel's Blossom Room records how the first Academy Awards ceremony was held there -- allegedly it lasted a scant few minutes. On a still-extant tiled stairway in the back corner of the lobby, Shirley Temple received a tap-dance lesson from Bill "Bojangles" Robinson. Potted palms and gorgeously painted ceilings maintain the glamour that attracted lovebirds Clark Gable and Carole Lombard. During Prohibition, Errol Flynn cooked up bootleg hooch in the barbershop here. Hemingway, F. Scott Fitzgerald, and even Salvador Dali loitered in the hotel's Cinegrill, where Liberace and Mary Martin performed, though not at the same time. Photos, clippings, and memorabilia displayed on the mezzanine trace the hotel's history. One cherished feature of the Roosevelt, now gone for good, was a miasma of curvy lines that artist David Hockney painted on the bottom of the swimming pool; an overeager cleanup job bleached them away. Marilyn Monroe lounged beside the pool, where she did her first-ever photo shoot. A mirror that used to be hers now hands on the wall in the basement, just to the left of the elevators as you step off. A picture of Marilyn is strategically positioned so that her face appears ghostlike in the glass. In fact, her specter is said to manifest hereabouts, as is (on the ninth floor) Montgomery Clift's. Montgomery Clift lived in room 928 of the Hollywood Roosevelt Hotel for three months in 1952, while filming From Here to Eternity. Every morning he would jog on the athletic field across the street, at Hollywood High School. He often paced the hallway, rehearsing his lines and practicing the bugle while hanging out the window. Maids have felt something cold brush by them in that section, while others have felt a strange presence watching them or walking at their side. On a November night in 1992, an overnight guest in Room 928 felt a hand patting her shoulder while she lay in bed reading. She turned to say goodnight to her husband, but he was sound asleep. Another man says that he was mysteriously shoved in the middle of the night.

We have been told that the Blossom Room is also haunted (but that the ghosts are friendly!), and that guests are not typically permitted in there past Midnight ... Shock Treatment starts around 12:30am.

7000 Hollywood Blvd.
The Hollywood Sign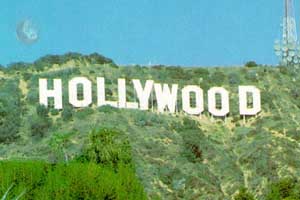 This eternal symbol of L.A., the movie industry, and California itself was erected in 1923 as an ad for a Beachwood Drive housing development called Hollywoodland. The temporary sign started falling apart and by the late 1940s was in sorry shape. Local boosters got the idea to remove the --LAND part, spruce up the rest, and turn it into an ad for Hollywood. It worked. But it's more than a symbol -- it's a real place where people have lived and died. Each letter has a story all its own. Struggling actress Peg Entwistle jumped to her death in 1932 from either the second D in HOLLYWOODLAND (now long gone) or, some say, the H or maybe even the first O. (The D seems most likely.) Her death supposedly sparked a rash of suicides by failed starlets. The sign was at one time illuminated by 4000 lightbulbs, maintained by a caretaker who lived in a shack behind one of the two Ls. Songwriter Eden Ahbez, who penned the hit "Nature Boy" for Nat "King" Cole, was one of Hollywood's most colorful characters, a proto-hippie known for his long beard, flowing robes, and the wild look in his eyes. When not writing autobiographical songs like "I'm A Gone Yogi," Ahbez is said to have dozed under the first L in a sleeping bag. In the 1998 version of Mighty Joe Young, the giant ape climbs atop an O, with the aid of special effects. The sign originally cost $21,000 to build, and the letters are 30 feet wide and 45 feet tall. Maintenance was discontinued in 1939, and in 1949 the -LAND portion of the sign was removed. It was so rundown, that in 1978 the chamber of commerce restored it, and for $28,000 each, the following people sponsored the letters:
H - Terrence Donnelly, Publisher Hollywood Independent Newspaper
O - Giovanni Mazza, Italian movie producer
L - Les Kelley - Originator of the Kelley Blue Book
L - Gene Autrey - With his pioneer television station KTLA
Y - Hugh Hefner - Creator of Playboy Enterprises
W - Andy Williams - Singer
O - Warner Brothers Records
O - Alice Cooper - In memory of Groucho Marx
D - Dennis Lidtke

Hollywood, way up in the hills...
Santa Monica Pier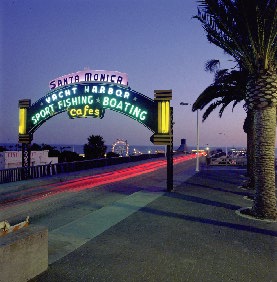 Nearly a hundred years old, the West Coast's oldest pleasure pier has a checkered history. The terminus of Route 66, it was studded with thrill rides and popular for decades but fell into disrepair in the '70s. Now fully restored, it boasts a carousel, arcade, solar-powered Ferris wheel, and other amusements. It its various states of degradation and repair, the pier has appeared in many films, including Inside Daisy Clover, The Sting, Beverly Hills Cop, Down and Out In Beverly Hills, and The Net. It has also been featured on TV shows including Charlie's Angels; Marcus Welby, M.D.; Murder, She Wrote; Three's Company, and, not surprisingly, Baywatch. Tales are told of how celebrity madam Heidi Fleiss, here for a meal, once helped rescue a would-be suicide.
End of the 10 Freeway at Ocean Blvd. (Approx)
Muscle Beach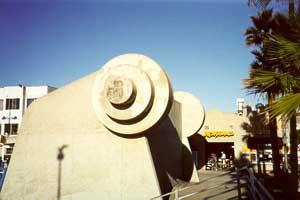 (where the fitness boom was born)
Starting in 1934 this stretch of beach served as an open-air gym where local bodybuilders, movie stuntmen, and others showed off their pecs. Fitted with exhibition platforms and exercise equipment, it grew over the next twenty years into an actual fitness club whose hundreds of members flexed and crunched for wildly applauding crowds. Jack LaLanne was a habitué at these shows before the club shut down in 1958. In 1999, with new equipment and a new set of bleachers spread over nearly three acres of land, Muscle Beach reopened.
1815 Ocean Front Walk, Venice CA (Approx.)
Canter's Fairfax Restaurant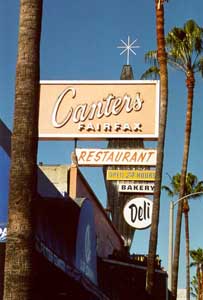 (where Pearl Jam ponders potato pancakes)
The décor has a '50s flair and brisket is king in this round-the-clock deli. An L.A. institution, Canter's has sold more than two million pounds of lox. Oy, to whom? To regulars like Bugsy Siegel, Jack Benny, Elvis and Marilyn. (For her marriage to Arthur Miller, Marilyn converted to Judaism. Canter's named a tomato-cheese sandwich after her.) During the '60s rockers Frank Zappa, Joni Mitchell, and even the Beatles flocked here after hours. (Rumor has it that Keith Moon once came clad as a Nazi -- and quickly left.) Punk bands hung here in the '70s; their tattooed descendants uphold the tradition. Others spotted schmoozing in the restaurant and its bar, the Kibitz Room, include Johnny Depp, Lenny Kravitz, Guns N' Roses, and Madonna.
419 N. Fairfax Ave. at Oakwood Ave.

---
Other landmarks to see in the Hollywood/LA area:
Mann's Chinese Theatre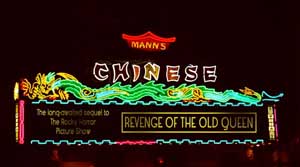 Ummmm ... Circa 2005

At the world's most famous movie theater, most visitors are content to stay outside. In 1927 then-owner Sid Grauman had the kooky idea of getting stars to step in wet cement out front. The theater changed hands in 1973, but it still sports the faux pagoda front adorned with rampant dragons. In the forecourt are hundreds of footprints -- front Shirley Temple, John Wayne, Paul Newman, Liz Taylor, Cary Grant, Marilyn Monroe, the Marx Brothers, Myrna Loy, Fred Astaire, Ginger Rogers, Sophia Loren, Doris Day, Eddie Cantor, Sidney Poitier, Gene Kelly, Natalie Wood, Jean Harlow, Tom Hanks, Denzel Washington, Al Pacino, Meryl Streep, Robin Williams, Steven Segal, and many more. Crowds roam around thrusting their own feet into the prints. Most won't fit in Mary Pickford's but Arnold Schwarzenegger's are among the most popular. Alongside them he scrawled, "I'll be back." And Clint Eastwood wrong alongside his own prints, "You made my day."

In January 1999, Susan Sarandon joined the ranks of those who left their footprints in the cement in front of the Mann Chinese. If you want to look her up, she's along the left-hand side of the courtyard, a bit closer to the front sidewalk.

6925 Hollywood Boulevard, at Highland Ave.
(Roughly across the street from the Roosevelt Hotel)




El Capitan Theatre and Masonic Temple
(The Disney Infiltration)

When Hollywood Boulevard was still a quiet mix of homes and agricultural businesses, real estate developer Charles Toberman, often called the "Father of Hollywood," envisioned a thriving theater district there. During his lifetime, he erected 36 stylish buildings in the heart of Hollywood, including the Hollywood Roosevelt Hotel and three themed theaters, which he developed with Sid Grauman -- the Egyptian, the Chinese, and the El Capitan.

The El Capitan Theatre debuted on May 3, 1926, as "Hollywood's First Home of Spoken Drama." Between 1926 and 1936, more than 120 live plays were produced at the El Capitan Theatre, including No, No, Nanette, Anything Goes, and Ah, Wilderness, and its stage was graced by such legendary stars as Will Rogers, Clark Gable, and Joan Fontaine. In 1941, Orson Welles' Academy Award-winning Citizen Kane made its world premiere at the El Capitan Theatre. After the successful screening of Citizen Kane, the El Capitan Theatre closed for remodeling. A year later, it was reborn as the Hollywood Paramount, a sleek, new "art modern" movie house.

In 1989, The Walt Disney Company joined forces with Pacific Theatres to begin a two-year archeological dig, which led to a museum-quality restoration of the legendary palace. The El Capitan Theatre was an early participant in Hollywood's recent revitalization efforts, which also include plans for $300 million entertainment-and-shopping complex, and a new, permanent home for the Academy Awards. As an exclusive first-run theater for Walt Disney Pictures, The El Capitan Theatre has hosted live stage shows, world premieres, and other special events that have helped restore showmanship to Hollywood Boulevard.

6838 Hollywood Blvd.




Roxy Theatre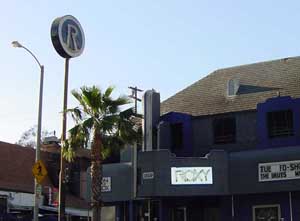 After it opened in 1973, this humble club helped shape post-1960s music in all its dubious glory. Many performers now known as the era's biggest stars entertained audiences at the relatively intimate Roxy before graduation to stadiums. Too bad you missed those shows by Bruce Springsteen, Bob Marley, Boz Scaggs, Cheech and Chong, Jimmy Buffett, and many others. John Belushi allegedly ate his last meal at a private dining room upstairs here before his date with death at the nearby Chateau Marmont.
In 1974, the Roxy Theatre became home to The Rocky Horror Show, where its popularity prompted owner Lou Adler to turn the successful play into a movie, called The Rocky Horror Picture Show. Rocky fans returned to the Roxy on October 20, 1995 as the first part of Rocky Horror's 20th Anniversary Celebration.
Today, alternative and hard-rock bands now behind the club's moody bluish purple façade several nights a week.
9009 Sunset Blvd. Near Doheny Dr.
Pantages Theater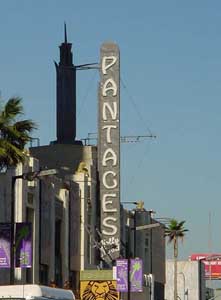 When it first opened in 1930, impresario Alexander Pantages was in prison for raping a teen (he was later acquitted). This was the nation's first Art Deco cinema, and its entryway is still resplendent in sunshine gold and swimming pool blue, with golden statuary evoking cowboys and Indians. After Howard Hughes acquired the place in 1949 it became the Academy Awards' venue for the next ten years, and it was here that the first televised Oscar ceremony was held. Since 1977 the focus has been on live performances. Hughes's ghost is said to haunt the Pantages, as is that of a young actress who allegedly died of malnutrition in the balcony in the theater's early days. Staffers report ghostly voices singing in the empty theater -- "auditioning," they say.
On October 21, 1995, the Pantages Theatre hosted the Saturday "Floor Show" portion of the Rocky Horror Picture Show's 20th Anniversary ... which featured Richard O'Brien, Patricia Quinn, Little Nell, Barry Bostwick and Sal Piro, plus Rocky Horror casts from all across the country and a live performance from a Japanese Rocky Horror Band!!
6233 Hollywood Blvd. Near Vine
Capitol Records Building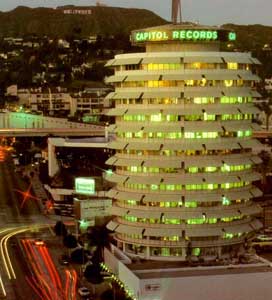 Legend has it that Nat "King" Cole and Capitol Records cofounder Johnny Mercer (composer of such hits as "That Old Black Magic" and "Moon River") designed this circular office building to resemble a stack of records. The "stylus" on top has a light that blinks out "H-O-L-L-Y-W-O-O-D" in Morse code. Founded in 1942, Capitol Records has had many of this century's top stars on its roster, from Frank Sinatra to the Beatles to Pink Floyd. Though Capitol offers no tours of the building, visitors can prowl the lobby and admire hundreds of gold records by artists such as the Beach Boys, Jimi Hendrix, the Beatles, the Steve Miller Band, Nat "King" Cole, and gold CDs from groups like Megadeth. Many of the Walk of Fame stars on the sidewalk in front of the building honor Capitol Records performers ... and on the south side of the building, overlooking the parking lot, is a grotesque mural of Billie Holiday and other famed jazz musicians.
1750 N. Vine Street, just north of Hollywood Blvd.
Lobby usually open during business hours.
Hollywood Walk of Fame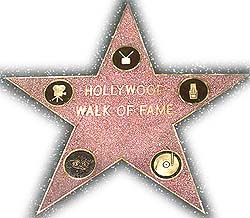 Forty years ago the Hollywood Chamber of Commerce cooked up this idea as a publicity stunt. New names in bronze are installed monthly along the seventeen-block stretch to join over two thousand others. In five categories -- movies, radio, TV, live theater, and recorded music -- practically everyone you can think of is here, from Lucille Ball to Groucho Marx to Fleetwood Mac, not to mention Buster Keaton, Ronald Reagan, Robin Williams, Red Skelton, Dolly Parton, Lassie, Wesley Snipes, Greta Garbo, Patrick Swayze, John Lennon, Roy Rogers, David Hasselhoff, Audrey Hepburn, Ingrid Bergman, and William Shatner. A stroll along these blocks becomes bizarre as you spot more and more names that seem either completely undeserving or totally unfamiliar. Morning unveilings tend to draw a celebrity crowd, as colleagues hail the guest of honor. New stars installed in 2000 immortalize Don Knotts, Jim Carrey, KISS, and more.
Hollywood Blvd. Both sides between La Brea and Gower;
also on Vine between Sunset and Yucca.
Frederick's Of Hollywood
(Celebrity Lingerie Hall of Fame)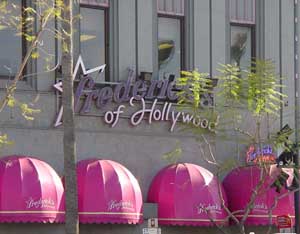 Frederick's has been famous for decades as the store where you can buy peek-a-boo teddies, push-up bras, marabou tidbits, and crotchless knickknacks. In the store's rear -- where else? -- is an underwear history museum stocked with pointy torpedo bras and such. The museum's Celebrity Hall of Fame has actual lingerie previously worn by Marilyn Monroe, Cher, Doris Day, Belinda Carlisle, Pamela Anderson, Madonna, and many others. Inspect the star's bras, slips, panties, bustiers, and other unmentionables. Wow, if that tricot could talk...! Check out Mae West's feathered robe, Robert Redford's striped boxer shorts, Tom Jones's garters, Phyllis Diller's bra (embroidered "This Side Up"), and a purple lace confection Natalie Wood wore in Bob and Carol and Ted and Alice.
6608 Hollywood Blvd. At Whitley Ave.
Open Mon-Sat. 10:00am -- 6:00pm. Sundays Noon -- 5:00pm.
Nuart Theater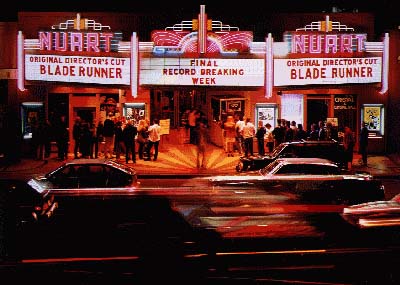 This Los Angeles theater has hosted the Rocky Horror Picture Show cast "Sins o' the Flesh" for over 13 years. Currently under directorship of Jason Satterfield and Liz, this cast is going strong! They won for best pre-show performance at the 25th Anniversary Convention in Las Vegas, and even Richard O'Brien has been to see their show. You might want to visit the historic box-office theater while you're in the area. It is known as the first-ever theater Landmark opened.
11272 Santa Monica Boulevard, in West Los Angeles
Hollywood High
(alma mater of the stars)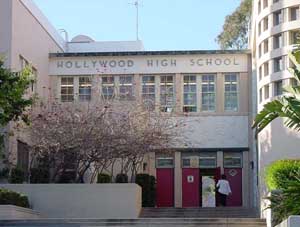 Modern architecture replete with rounded corners distinguishes this campus whose students today speak mainly Spanish and Armenian. "Welcome to World Famous Hollywood High School," declares an arrogant greeting painted on the wall of the administration building. Also on this building's "Walls of Fame" names of alums are painted amid jaunty red stars: Jason Robards, Judy Garland, James Garner, Fay Wray, Mickey Rooney, Tuesday Weld, Alan Hale, Ione Skye, Donovan Leitch, Linda Evans, Lana Turner... even the controversial spiritualist Bishop Pike.
1521 N. Highland Ave. at Sunset Blvd.
Griffith Park and Observatory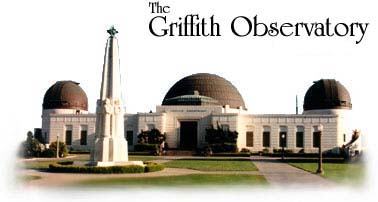 Inside the big pale hilltop dome is, um, some astronomy stuff. Outside the building is where that crucial knife-fight scene was filmed for Rebel Without A Cause. According to one legend, the director stopped shooting when he saw that James Dean had accidentally been sliced on the ear during one take, but Dean threw a hissy fit at being interrupted. A bronze bust of the late actor now stands atop a column outside the building. An accompanying plaque commemorates the filming of Rebel. Numerous other movies shot around Griffith Park -- which stands in for the wilds more often than you realize -- include Jurassic Park, Bowfinger, Austin Powers, and The Rocketeer. In The Terminator a nude Arnold Schwarzenegger arrives from the future; near the observatory he stares down at the incomparable view.
2800 East Observatory Road
Bronson Caves
In both the TV and movie version of Batman, this natural formation is where our heroes hid their Batmobile. It has also appeared in countless other shows, doubling for the Wild West in Gunsmoke, Bonanza, and The Lone Ranger; as a jungle in King Kong; as a last-resort hideout in Invasion of the Body Snatchers; and much more.
The Hollywood Palladium
(the mother of all ballrooms)
Opening in 1940 as the world's largest dine-and-dance venue, the 40,700-square-foot Palladium easily accommodated thousands. Throughout World War II the era's top big bands came to play here, and Hollywood notables such as Betty Grable and Tyrone Power mingled with hordes of plebes on the dance floor. Lawrence Welk spent ten years broadcasting his TV show from the streamlined ballroom. Under its sparkling chandeliers the Emmy Awards, Grammy Awards, and Lollapalooza have been staged since. All this Decoesque vastness appeared in The Blues Brothers, The Bodyguard, Day of the Locust, F.I.S.T., Mr. Saturday Night, What's Love Got To Do With It, and others. A continuing stream of concerts here includes everyone from James Brown to The Who to Alice In Chains.
6215 Sunset Blvd. At Argyle
Regency Apartments
(Divine Death Site)
Flamboyant transvestite Divine was the leading "lady" of ten feature films, most of them directed by gross-out king John Waters. The team paired up in the late 1960s and rose from Baltimore's netherworld to national fame as auteurs of some of the most revolting films ever made, including the classic Pink Flamingos, in which Divine eats dog shit on camera. The 1980s saw Divine (real name: Glen Milstead) gaining respectability with critically acclaimed performances in Polyester and Hairspray, but just as s/he teetered on the verge of mainstream stardom, a heart attack in this low-key hotel ended the party. You can't see the inside of the second-story front room where the morbidly obese Divine died in his sleep, but you can stand in front of the pastel green building -- recently converted into apartments -- and snap pictures of the window where it supposedly happened.
7940 Hollywood Blvd. South side of street, near Fairfax
The Knickerbocker
(Where they couldn't conjure Houdini)
Today this towering structure, with its impressive vintage neon sign, is an all-Russian senior citizen's residence. By the 1960s it had fallen on hard times, but in earlier years this was a glamorous hotel. After Harry Houdini died in 1926 his widow Beatrice conducted a séance here. During his life the escape artist had been a skeptic, but Houdini held that if any spirit could slip its bonds and speak to the living, it would be his. Though Beatrice staged several séances -- the most famous of which was held here -- she had no luck. Other sad stories cling to the place; reportedly, the celebrated yet surnameless studio costume designer Irene leapt to her death from an upper floor of the Knickerbocker, and D. W. Griffith died here a disdainful drunk in 1948.
1714 Ivar Avenue at Hollywood Blvd.
Hollywood Studio Club
(Where "Auntie Em" overdosed)
This yellow-and-aqua complex has a heavy-handed faux Art Deco façade that shimmers behind a row of palms. The apartment building formerly on this site, then numbered 1735 Wilcox, and now torn down, was home to Clara Blandick, who played Auntie Em in The Wizard Of Oz. In the spring of 1962 she faced failing eyesight and other health problems. As the story goes, she went to the hairdresser, came home to her modest flat, dressed immaculately, and swallowed an overdose of sleeping pills, slipping a plastic bag over her head to make extra sure. Rumor has it that later tenants in this building have included Farrah Fawcett and Snoop Dogg.
1745 Wilcox Ave. just north of Hollywood Blvd.
Hillside Strangler Home
Big and pink and peach, this balconied complex has a tiled roof as a '70s mien. One former tenant is Kenneth Bianchi, now notorious as half of the Hillside Strangler team. After a string of L.A. women turned up murdered in late 1977 and early 1978, Bianchi was caught and led police to his cousin, Glendale upholsterer Angelo Buono. Current residents are aware of their sinister predecessor, though management does not disclose which apartment was Bianchi's.
Tamarind Place Apartments, 1950 Tamarind Ave. at Chula Vista Way
Alto Nido Apartments
(Where the Black Dahlia lived)
A star struck wannabe while alive, Elizabeth Short grabbed headlines after death in January 1947 when her mutilated corpse turned up in a vacant lot. Nicknamed "the Black Dahlia" for her dyed hair, she was tortured and killed by a person -- or persons -- unknown, and remains one of L.A.'s most famous murder victims. A drifter and a good-time girl, Short lived at the time of her death in this tile-roofed white apartment house whose balconies offer a romantic view of the hills.
1851 Ivar Ave. just north of Franklin Ave. three blocks north of Hollywood Blvd.
Highland Gardens Hotel
(Where Janis died)
Today this modern hotel basks in dappled sunlight as venerable palm trees shield it from the world. Banana plants add yet more lushness, and a row of international flags flutter out front. The management firmly keeps mum about Janis Joplin's death here on an October night in 1970, when this was still called the Landmark Hotel. Staying in room 105, Joplin had a visit from a heroin dealer. After making a purchase, she ventured outside for a while. Later she returned to her room. A quick trip to the lobby for cigarettes was the last time she was seen alive. Her overdose that night was most likely accidental.
7047 Franklin Ave. at Sycamore Ave.
Ozzie and Harriet House
The popular '50s TV show started Ozzie, Harriet, David, and Ricky Nelson playing characters called Ozzie, Harriet, David, and Ricky Nelson. This gray-shingled New England-style home stood in for the TV family's house in exterior shots. Surprise! In a Truman Show-esque twist, this was also the actual Nelson's actual home. (The TV Nelsons lived on "Sycamore Road.") Eager fans are said to have loitered here for a glimpse of Ricky. Today the house hides behind a heavy iron gate and thick hedge.
1822 Camino Palmero at Franklin Avenue
KTLA Studios (formerly Warner Bros. Studio)
where the first talking picture was made
Other movie sites claim primacy for this or that innovation, but KTLA has the "first" that really counts: it was on this exact location in 1927 that Warner Bros. made The Jazz Singer, the world's first talking picture, thus launching the film industry as we know it today. The Jazz Singer was actually just the first film with a dialogue; Don Juan, also made on this site but a year earlier, was the first film with a soundtrack, which many believe is the more important breakthrough.
5800 Sunset Blvd. Between Van Nuys and Bronson Aves.
Hollywood Athletic Club
where Johnny Weissmuller trained to become Tarzan
and John Wayne pitches his balls at people
This big white landmark, built in 1924, once housed a private residential club which was founded by Cecil B. DeMille and was at one time very popular with actors. Charlie Chaplin was an early habitué. A huge gym that used to be on the premises attracted macho types: Cornel Wilde was a lifeguard at the pool where Weissmuller and Buster Crabbe swam laps and into which, it is said, Errol Flynn took whizzes from two stories above. Stood up by Flynn, Jean Harlow arrived here once wearing only a coat. And on another legendary night John Barrymore was brought here by friends for a final drink -- Barrymore was freshly dead at the time. Departing from his image as an upstanding American, John Wayne was known to stand on the roof, throwing billiard balls at passing vehicles. In 1949 the first Emmy Awards were held here -- a bronze plaque recalls the event. The pool has been converted to a ballroom; now the place is a dance hall and restaurant whose patrons include a sampling of the local talent.
Designer Donuts
(doing its best to bloat Leo DiCaprio)
Framed head shots on the wall reveal who adores these greasy, frosted delights: Brad Pitt, Pamela Anderson, Arnold Schwarzenegger, Matt Damon, Steven Spielberg, Sylvester Stallone, Alicia Silverstone, and "Weird Al" Yankovic beam down at the pink vinyl stools. Over the counter a sign reads: "Through extensive research and testing we have developed the ultimate... our exotic combination of flavors is designed to arouse." This doughnut hut prides itself on delivering its wares to casts and crews. A younger Steven Spielberg was once a partner in the biz but, as the story goes, it ended ickily. Along with his autograph, Leonardo writes, "Your donuts are unsinkable."
6660 Sunset Blvd. In a strip mall on the south side of the street
Hollywood's Rock Walk
(where pickers put their fingers)
In 1985 this guitar store took up the prints-in-wet-cement tradition. Under the big red awning out front, find your faves' handprints and signatures: Frank Zappa, Ozzy Osbourne, Dick Dale, Stevie Wonder, Smokey Robinson, the Ventures, Jan and Dean, Black Sabbath, Los Lobos, John Mayall, Johnny Cash, George Martin, Johnny Winter, the Ramones, Motley Crue, Alice Cooper, and more, are all here.
7425 Sunset Blvd. Right next to the Guitar Center
Hugh Grant Blow Job Zone
The pickup happened at the northeast corner of Sunset Blvd. And Courtney Ave. (which becomes Spaulding Ave. to the south) in front of the Hollywood Church of Religious Science at 7677 Sunset Blvd., across the street from All-American Burger. The interrupted BJ supposedly went down three blocks away at the intersection of Curson and Hawthorn Ave. It's never nice to see your mug shot plastered on the front page, but when the terms "oral sex" and "lewd conduct" appear in the caption, that's gotta hurt. Squeaky-clean and cute-as-an-English-schoolboy Hugh Grant brought this calamity upon himself on June 27, 1995, when he needed something his gorgeous girlfriend Elizabeth Hurley apparently couldn't supply. Hugh "met" Divine Brown on Sunset Blvd. They drove down to a quiet corner a few blocks away for a little business transaction which -- oops! -- was interrupted by the cops. The international scandal machinery spun into action, but the sordid details seemed only to boost Hugh's career, banishing a vaguely unsatisfying sexlessness that his sheepish grin and boundless chivalry had previously given him. He got probation and a small fine and was on his way. The peaceful corner of Curson and Hawthorn is trimmed with leafy trees, palms, and bougainvillea -- perfect for a midnight rendezvous.
Nightmare on Elm Street house
(your nightmare is real)
Dream-world slasher Freddy Krueger has terrified two generations of moviegoers who have emerged from the theater relieved that "after all, it's just a movie." Or is it? Walk down Hollywood's residential Genesee Ave. and you might start having second thoughts.
The house identified as 1428 Elm Street is in fact a real house: Freddy fans will immediately recognize the home's mansard roof, white columns, and arched entryway. It's just that Nightmare on Genesee Avenue didn't have quite the same ring to it.
1428 Genesee Ave. just south of Sunset Blvd. Three blocks east of Fairfax.
Halloween Houses
(where baby-sitting turned bad)
Exteriors for the original Halloween film were shot at the Colonial-style house at number 1534, which has shutters and stately trees. (A "corpse" was tossed off a balcony here at one point.) More were shot at the similarly Colonial number 1537, across the street, which boasts a widow's walk, a big front porch, and smooth white columns. Halloween 3: Season of the Witch was partly filmed at the equally lovely number 1536.
1534, 1536, 1537 Orange Grove Ave. at Sunset Blvd.
Chateau Marmont
(John Belushi checked in, but he didn't check out)
Perched on a slope above the Strip, this hotel is modeled after a French castle -- complete with gardens and impressive stone archways. Though oozing discretion, it has been the scene of many a scandal since it opened in 1929. In 1939 film mogul Harry Cohn reportedly said, "If you must get into trouble, do it at the Chateau Marmont." In 1965 Liz Taylor brought her bloodied pal Montgomery Clift here, of all places -- and not to a hospital -- after the actor was injured in an accident. They say Natalie Wood first met James Dean here; that Paul Newman and Joanne Woodward fell in love here; and that Barry Mann and Cynthia Weil penned the hit "You've Lost that Lovin' Feelin'" here. Jim Morrison was hurt during a failed attempt to enter his upstairs room through an outside window. Members of Led Zeppelin are said to have once roared into the lobby astride Harley-Davidsons. Former guests include Greta Garbo, Jean Harlow, Boris Karloff, Marilyn, Mick, Ringo, Janis, John, Yoko, Keanu, and dozens more. In 1982 the hotel made international headlines when John Belushi, staying in bungalow 3 (according to most sources, though a few insist it was bungalow 2) to work on a script, met with a local gal who taught him how to combine coke and heroin. Overindulging in this novelty, he OD'ed in the bungalow and was carted off to the morgue amid the popping of flashbulbs.
8221 Sunset Blvd. At Laurel Canyon Blvd. For a peek at the bungalows, which are largely obscured behind canvas and foliage, climb Marmont Lane around the west side of the hotel, then turn right on Monteel Road.
Marie Prevost Possible Death Site
(she was a winner that became a doggie dinner)
Poor Marie. A successful silent-era actress, Marie Prevost had trouble adjusting to the talkies. In the '30s her aging face and ballooning weight made roles hard to find. (The problem was NOT, as is frequently reported, a New York accent: she was raised in Canada and attended high school in L.A.) Like many before and since, she dieted. It wasn't enough, so she stopped eating and started drinking instead. She died in 1937 of malnutrition and alcoholism. What makes this story the stuff of Hollywood legend is that the cops found Marie's body partially devoured by her dachshund. Trapped in the apartment for days, the little fella had nothing to eat but a stringy corpse.
Where this gruesome discovery took place is still a bit of a mystery. Many sources insist it was in the four-story cream-and-beige Art Deco apartment building at 6230 Afton Place. But neither the current residents nor the current owner nor the previous owner have heard of Prevost, nor was she listed in the 1936 or '37 phone books. So the rumor remains unconfirmed, though this remains the most likely spot. (Although the manager was also unfamiliar with the story, interestingly he noted that in recent years he personally has found three of his elderly residents dead in their rooms, undiscovered for days on end, like Marie.) The gory tale enjoyed a burst of notoriety in the mid-'70s after Kenneth Anger gloated over it in his book Hollywood Babylon. Then British New Waver Nick Lowe made Marie a household name with his unforgettable but misspelled hit "Marie Provost." Its lyrics make a hilarious epitaph:
The cops came in and they looked around,
throwing up everywhere over what they found,
the handiwork of Marie's little dachshund:
that hungry little dachshund.
She was a winner
that became a doggie's dinner.
She never meant that much to me.
Oh, poor Marie.
6230 Afton Place, just east of Vine St. on the south side of the street
Mae West house
(come up and see it sometime)
Her stage and screen persona was as steeped in sexuality as baklava is in honey. Ave Mae West was as much a self-parody as a mystery: older and heftier than your average love-goddess, she spouted wink-wink nudge-nudge quotations incessantly. One rumor that surfaced during her lifetime, and still persists long after her 1980 death, suggest that Mae West was, of all things, a man. Hmm. All records of her birth have apparently vanished. In 1927 she authored a play about gay men, Drag -- a follow-up to her 1926 play, Sex. And what about that husky voice? Consider, too, the swagger, the hands, the absent cleavage. Hmm. West lived in this imposing white Deco apartment house for nearly fifty years -- from the 1930s to her death.
The Ravenswood Apartments, 570 N. Rossmore Ave. at Clinton Ave.
The Sex Walk of Fame
When this theater was called the Pussycat, Deep Throat played here a long time. (Yes... oh... really long.) To celebrate their dawning Golden Age, porn stars took up the Hollywood tradition of pressing body parts into wet cement out front. (Hands and feet only, of course.) Linda Lovelace offered hers in 1973, Marilyn Chambers in 1980. (Cutely, she dotted the i in her name with a heart.) Harry Reems and John Holmes are here, too, though their hand- and foot-prints merely tease. These days, the theater is the all-gay Tomkat. Under a purplish façade, flanked by unpleasant carpeting, cement squares signed by gay porn stars lie to the west of those imprinted by hets of yore.
Tomkat Theatre, 7734 Santa Monica Blvd. At Spaulding Ave.
Cedars-Sinai Medical Center
Stars regularly undergo profound rites of passage here. But, confidentiality being what it is, staffers tend to keep mum. River Phoenix, Lucille Ball, Michael Landon, Eva Gabor, Danny Kaye, and Sammy Davis Jr. are among those who have reportedly died here. But buck up! Happy things happen here, too! Jodie Foster and Annette Bening allegedly gave birth here, as did Debbie Rowe (she was married to Michael Jackson at the time). And celebrities like Steven Spielberg regularly drop in for emergency surgery. George Burns was such a staunch Cedars-Sinai supporter that today a pair of intersecting roads on hospital grounds are named for him and his beloved white, Gracie Allen.
8700 Beverly Blvd. Between San Vincente and Robertson Blvds.
Menendez Murder house
(where bad seeds grew)
Erik Menendez was nineteen and his brother Lyle was twenty-two when, on the night of August 20, 1989, they crept into their own home and murdered their parents. José and Kitty Menendez had been watching TV and eating ice cream before their sons appeared in the semi-darkness, toting shotguns. When the bloodbath was over, the boys had blown off part of their father's head. Their mother had been shot ten times. The brothers subsequently alleged in court that they had suffered unbearable abuse on the part of entertainment mogul José. Prison awaited them. The wide pale house with its heavy gate and arched doorways (said to have sold for more than $3 million in 1991) is also said to be a former home of Elton John's and Michael Jackson's -- though not together.
722 N. Elm Drive
Roxbury Drive -- Homes of the Stars
If you've never been to Beverly Hills, you might think its streets are paved with gold and lined with stars' homes. Well, the part about the gold isn't true. The other part isn't either -- except for a certain street called Roxbury Drive. More superstars have lived along three short blocks of Roxbury than on any other three blocks in the world. In the early 1950s Roxbury Drive became de rigueur for tour buses. That tradition continues to this day, so as you follow this little itinerary you might have a lot of company.
From Santa Monica Blvd., turn north up Roxbury Drive, and go three blocks. Starts at Lomitas Ave. and continues north along Roxbury to Benedict Canyon Drive.
*809 N. Roxbury: Maureen O'Sullivan and Mia Farrow
*905 N. Roxbury: Oscar Levant
*918 N. Roxbury: Jimmy Stewart
*1000 N. Roxbury: Lucille Ball and Desi Arnaz
*1002 N. Roxbury: Jack Benny
*1004 N. Roxbury: Peter Falk
*1019 N. Roxbury: George and Ira Gershwin, José Ferrer, and Rosemary Clooney
*1021 N. Roxbury: Ira Gershwin
*1023 N. Roxbury: Agnes Moorehead
*708 N. Roxbury: Nanette Fabray
*802 N. Roxbury: Lionel Barrymore
*1025 N. Roxbury: Polly Bergen

Most information taken directly from California Babylon, A Guide To Sites of Scandal, Mayhem, and Celluloid In The Golden State by Kristan Lawson and Anneli Rufus